Woo hoo!!! As I type this, we are fresh on our way to Savannah to visit my dad, The General, for the weekend. We're also going to get to see my friend Melissa and she gets to meet Oliver for the first time.
Head on over and say hi to
Ashley
. Hope everyone has had a nice week and planning a wonderful weekend!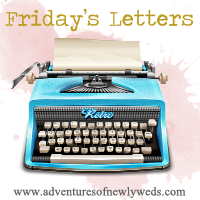 Dear Oliver
: Your constant babbling absolutely cracks me up. I swear I wonder all the time where this chatty Kathy came from.
X
Dear Zac Brown Band: Your new album is killing me. I'm pretty sure Josh and everyone else around me is sick of listening to it. Pure genius.
Dear Friday: Thank you for finally getting here. I couldn't handle much more this week. Uncle, uncle.
Dear Oliver (again): Thank you for being such a good boy on the drive down to Savannah tonight. Not a peep the entire almost 3 hour ride. How did mommy and daddy get so lucky?
Dear Weekend: Please go slow. Please, I'm begging you.
Dear Dos: We get to hear you again on Tuesday!!!! Can't wait to get another chance to know you're in there, growing away.
Well, we are nestled all snug in our bed at my aunt's house. I hope everyone has a wonderful weekend!! I finally have a new computer so I'll be able to blog easier. Times, they are soon to be a chagin in the Branham household. I promise I will share as soon as I can!!