Phew, we finally made it to Friday! I'm starting the countdown now when it comes to work and moving. I'll be honest, I'm freaking out. 100% freaking out.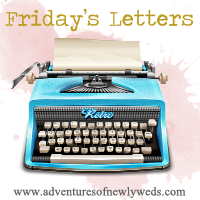 Dear Gamecocks: Oh, I love to hate you. You gave this pregnant mama a heart attack with your shenanigans last night. Please don't do that again. Thanks. (They won, by the way).
Dear Aunt JCC: I hope you don't get mad at me for posting this but, seriously, you were hands down the cutest damn child on the planet. I hope Dos is this adorable.
Dear Future: Please be kind to me? I'm so scared and worried about everything falling into place about this move that I'm about to go crazy. I just want everything to fall into place like it's supposed to. Nothing has to be perfect, just a little easier.
Dear Packing: Don't make me crazy having to do all this this weekend.
Dear Dad: Since I know you read now, guess I'll have to communicate this way. Stop acting like a child. We're moving, trying to do what's best for our family. Quite giving me the silent treatment because you don't agree with it. We've already cut Josh's mom out of our lives. Please don't think for a second that we won't do the same with you.
Dear long weekend: I couldn't have planned my two (okay, 3) weeks notice any better, could I? Woo hoo for one extra day of rest.
Dear Little People's Learning Center: I hate that we had to stop bringing Oliver after today. Believe me when I say that I am devastated. I cried leaving him and I'll cry again after today is over. I love y'all and am so sad. You will ALWAYS hold a special place in my heart because you took such good care of my boy while he was so young. Thank you again.
Well I hope everyone has a wonderful weekend! Enjoy the nice long days off, if you're able. See y'all!!