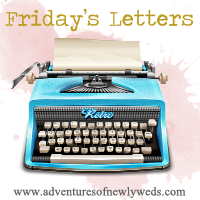 Woo hoo, Friday is finally here. I'm doing a little dance right now, if you can't tell. What what. Anyway, tomorrow my baby turns 6 months old so I'll have something special for him. Sigh, where has the time gone?
Without further ado, my letters...
Dear Dewey
, If you decide to take a mud bath one more time I really may kill you. Seriously, you smelled like a slug dipped in poop. Death, my friend, death. Stupid dog.
Dear Columbia
, Would you mind going a little easy on me with the humidity? This is very difficult for a pregnant mama, especially one that Zofran doesn't seem to help. True story.
Dear Mom
, I'm going to need you to take your crazy juice down about 2 notches. Seriously, I don't know where my mom went but, if you find her, could you please send her back? Thanks.
Dear Weekend
, Please hurry up and get here! I'm so ready to relax and have some time to myself!!
Dear Joshy
, Please don't give up on me. We've only got like 9 more weeks of this before I feel like a normal human being again. We can do this.
Dear Thursday
, Please be kind with whatever results we find out from my ultrasound.
Everyone have a fantastic weekend!!! Catch ya on the flip side.