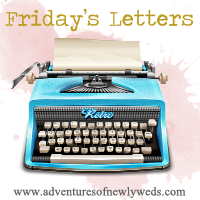 It's that time of the week again. I am really starting to look forward to these lately. You know it, linking with the lovely
Ms. Ashley
. Go check her out!! Girl is really stylish. Sigh, I'd love to be that one day. Alas, I digress....
Dear Dos
: Really funny. Really, really funny. Now, knock it off. Seriously, you must be a girl with all the drama you're causing. Sheesh.
Dear AC
: I wrote to you last week and I'm writing again. It's going to be 104 today, tomorrow and Sunday. Please, please, please keep on chugging along.
Dear Bloggie Friends
: Thank you from the bottom of my heart for your prayers, well wishes and good vibes yesterday. It's really nice to have a support system to cheer me on. I was terrified last night and your pick me ups meant so much.
Dear Josh
: Sorry for getting mad at you for yawning last night. I was emotional, it's your baby's fault. Hmph. But I do love you and I'm really sorry.
Dear VA
: Please get your ish together and have my stepdad's benefits come through. My mom as miserable as she is is breaking my heart. I cannot handle how sad she is. Do this so they can move. K great, thanks.
Dear SC OBGYN
: Thank you for calling me within five minutes of my frantic page AND squeezing me in to get an ultrasound this morning. Even though this isn't my first go round on the whole baby train, blood scares anyone and y'all really don't ever make me feel stupid for being worried.
Sigh, I just love him.
I hope everyone has had a wonderful week and your weekend is great as well. I'll start doing my preggo posts on Sundays, I think, since that's when the new weeks start. 9 weeks, I'm looking at you!!