Woo hoo, it's Friday. I'm all for instating an every Wednesday off rule from here on out. Who is with me?? Anyone? Anyone?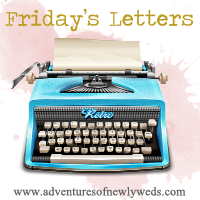 Go on over and say hello to
Ashley
since I'm linking up with her today.
Dear Boss: I realize that this is a trying time for you right now and very busy but this job isn't my life and I will not make it about that. The way you talk to me is abhorrent and you should be ashamed of yourself.
Dear Body: Please go easy on me. For some reason I feel like you've gotten out of control lately and being pregnant isn't helping. Seriously, I cannot get on a scale right now. This is so sad.
Dear Summer: I normally love you, really I do. Enough with the 105+ degree days already. You've made your damn point.
Dear Bloggers: This one is really grating on my nerves recently. I love your giant blog and getting to read all about your (fill in the blank here). However, is it necessary to have every. single. post sponsored by something?? Do we really need to learn about our parks? Or how Arm and Hammer is better for this or that? Maybe it's just me but I'm about to delete at least ten blogs off my read list because I'm tired of this.
Dear Hormones: As listed above, tone it down. You are all over the place lately. Getting into a Facebook fight with your aunt probably wasn't too smart. Sigh.
Dear Matt Bomer: I love you. Yes, I love you. You and me have a date this summer starting on Tuesday night. Let the pregnancy dreams begin...
Dear Oliver: I see the wheels in your head turning lately and I just know at any moment that you are going to start getting into everything! Lord help us all.
See, that's the face of trouble right there!
Well, I hope everyone has a wonderful, wonderful weekend! So glad it's here already.