Woot woot, it's Friday!! And we all get to read each others' letters. Go say hi to
Ashley
and link up with her. Really, it's fun!! I can honestly say Fridays are my favorite bloggy day.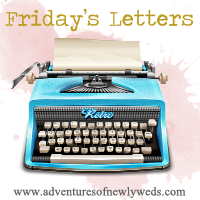 Dear Josh, I love you honey. Really and truly you are the nicest, most caring and wonderful person I have ever met in my life. I'm still trying to figure out how I managed to snag you.
Dear Oliver, mama loves you to the moon and back. But, seriously, if you keep making that "mmmm" "mmmm" "mmmm" noise when you're aggravated, I may have to start smacking you. It's. Driving. Me. Insane. Is this a phase?? Will you ever grow out of this??
You're still cute though. Mama loves you.
Dear Blue Cross Blue Shield of Texas, why didn't I switch to Josh's insurance sooner? Seriously, I only have to pay $74 per visit at the OB this time around??? Last time it was $256. I almost passed out when they told me this. I love you insurance, sincerely.
Dear government jobs, you suck. I hate you. And your stupid hiring preferences. I'm officially done ever trying to make a difference by working for my country. Jerks.
(Sidebar: I got my 200th rejection email yesterday so my anger and hatred is coming from a justified place).
Dear Dos, please keep baking away. We'll get to listen to you on Wednesday!! I'm slightly disappointed that we won't get to find out what you are until the end of October but that's okay. Good things come to those who wait.
Dear Aunt JCC, I love you. I am so glad you're in my life.
Dear Dewey, please get your crap together and act like this with Oliver because he's supposed to be your little buddy. You're a really good dog, act like it.
Well I hope everyone has a fantastic Friday and a great weekend if we don't get to chat before Monday!!